You can now buy the hard copy of the Renaissance Rock Orchestra CD "The White Gate Trilogy" with 8 page booklet WITH YOUR CREDIT CARD at CD Baby!
OR purchase & preview on iTunes & Amazon!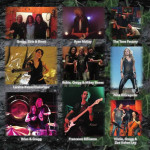 On our new release "The White Gate Trilogy EP" we feature world class talent including Rock and Roll Hall of Fame guitarist from Heart, Howard Leese, the wondrous vocals of Robin McAuley (MSG/Survivor), powerhouse drummer Brent Fitz (Slash/Alice Cooper), monster drummer Brian Tichy (Whitesnake/Foreigner/Billy Idol), Queensryche drummer Scott Rockenfield and master guitarist George Lynch (Dokken/Lynch Mob).
Order your hard copy of our new release "The White Gate Trilogy" today!
REVIEWS of "The White Gate Trilogy" by Renaissance Rock Orchestra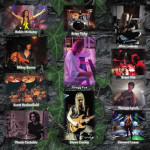 How does mastery like this go unnoticed??? – Styll
Awesome arrangements! Sounds from time to time also like early Symphony X. Love it! Cheers – MOONCRY
Beautif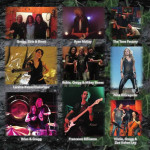 ul orchestral Rock and Roll majesty rolled into an all-star line up of players…. superb job! – Adam Nicholson
Outstanding guitar work. – Mike Glendinning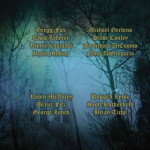 Brilliant original music and songs guys, you are all very gifted and talented. Absolutely loved everything, awesome recordings, keep up the wonderful work, you are all amazing! God Bless! My very best wishes to you from England, Rob. – Robert Steven Hunt
All I can say is WOW!!! – Nick Cleghorn
True musical mastery! – Alter Man
GET YOUR COPY of "The White Gate Trilogy" TODAY!
(Also available on SPOTIFY for your listening enjoyment!)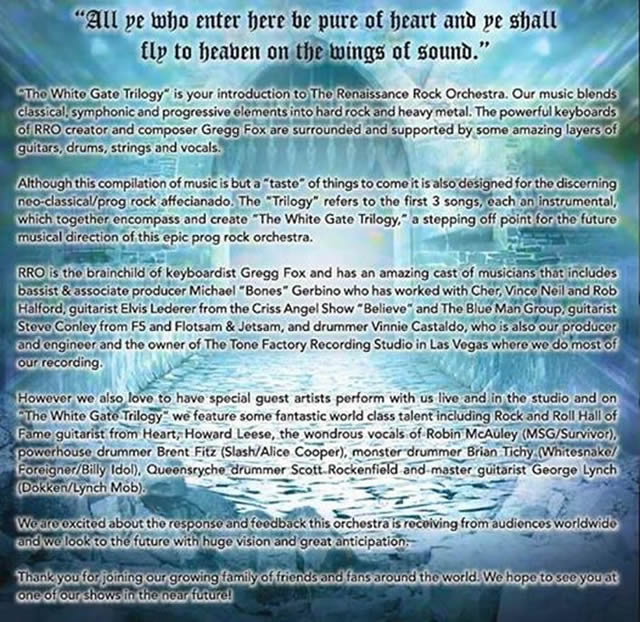 Thank you for your support and belief!